It's no secret that throughout the year living in the Southwest we experience all the weather extremes. From 40 degree plus days in summer too sub 0 degree temperatures in winter. This make heating and cooling in Warrnambool so important. But which heating and cooling system is best for you? At Coopers Electrical and Air Conditioning, we are your local experts when it comes to heating and cooling in Warrnambool and along the South Coast. We are here to make your heating and cooling decisions easy.
What are my heating and cooling options?
When it comes to reverse cycle options (achieves both heating and cooling from one unit) there are two main avenues you can take. These are split system air conditioners and ducted split system air conditioners. Now we will discuss the differences and advantages for both these types of systems and explain why both are great for heating and cooling in Warrnambool.
Reverse Cycle Split System
Split system air conditioners have come a long way since being introduced to the market place. They are affordable, quiet and are one of the most efficient forms of heating and cooling on the market today. There are so many advantages to installing a split system in your home or office, here are a few of the main ones: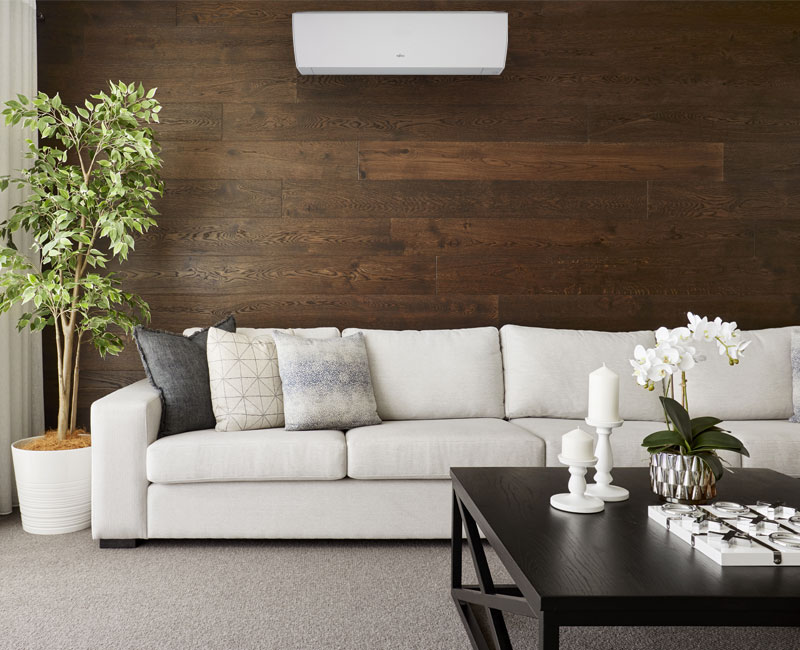 Energy Efficiency
Split systems consume less electricity than other climate control options, so even if you run them for a long period of time you won't break the bank on your utility bills. They also have a quiet operation which increases the efficiency of the unit.
Quiet Operation
Modern split systems make very little noise at both the indoor and outdoor unit. This makes split system installation especially effective in bedrooms. You will have no trouble at all sleeping through those muggy summer nights whilst your split system silently keeps the room cool.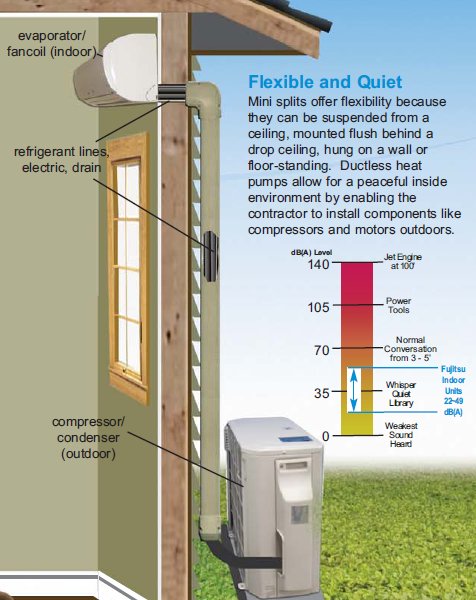 Improves Indoor Air Quality
One of the most common triggers for asthma or allergies is due to mould in air conditioners. Mould spores have been shown to cause respiratory infections and sometimes pneumonia. That's why it is important to consider getting a unit that can purify and clean the air.
Split systems can filter the air and remove harmful contaminants, allergens and microbes so you can breathe clean air. This feature comes in handy if you suffer from hayfever or asthma as well.
Ease of Install
Split systems are very versatile and can be installed in almost any location in the house. The connection between the indoor and outdoor units only requires cables and copper pipe. This allows you to mount the indoor unit in a desired location while also being able to hide the outdoor unit out of sight. It can be fitted in tiny spaces without the need for windows or large ceiling space, making the installation convenient and quick to install.
Stylish Design
Gone are the days of split systems being an ugly eye sore in the home. Modern split systems provide a stylish design that easily fits into your home décor.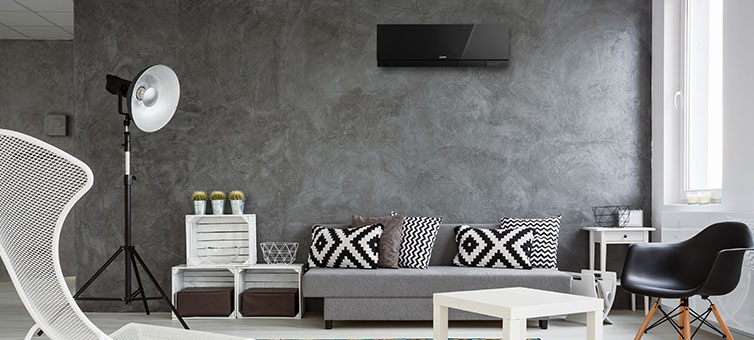 Ducted Split Systems
Ducted split systems are by far the most effective way to both heat and cool your whole home or office. There are many great reasons to choose ducted air conditioning. Convenience, control, perfect temperatures and efficiency are just a few.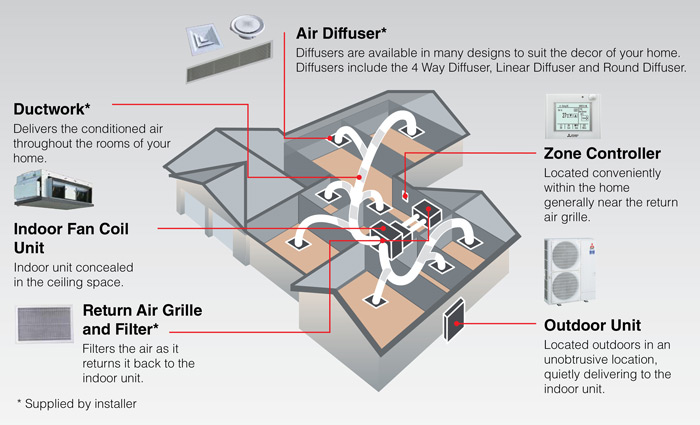 What is a ducted split system?
A ducted split system is a heating and cooling system that has a central fan coil which is hidden in your roof. This is connected to each of your rooms through a network of ducts. This allows you to easily heat and cool your entire home. There are also options which allow you to set different temperatures in different rooms, at the same time. Ducted air conditioning systems can be installed in new home builds or installed/replaced in existing homes.
Why choose ducted air conditioning?
Invisible Design
A great thing about a ducted air conditioning system is that they are almost invisible. All that you are able to see in the rooms of your house are small white vents in the ceiling. Having said that, having long stainless steel vents in the bulkhead of your home can make for a great feature!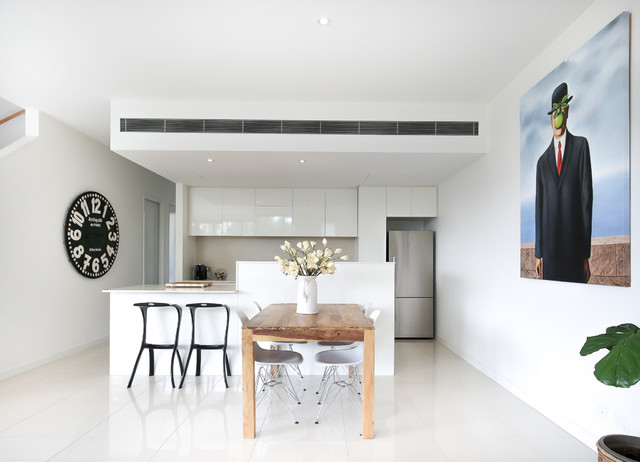 Control Flexibility
Probably the greatest advantages of ducted air conditioning system is the amount of control you have. Not only do ducted systems enable you to heat and cool your entire house, you also have the option of independent room temperature control. You can turn zones off if no one is using them, which will save you on electricity. You can also customize the temperature in different parts/rooms of the house.
This makes ducted air conditioning a great choice for families who respond differently to temperature. With ducted air conditioning, there won't be one person freezing in the bedroom covered by blankets while someone else roams around the living room sweating in shorts. Both areas can be set to the preferred temperature in each respective space.
The control systems are extremely versatile and make it simple to maintain the perfect temperature in each area. They keep the air distribution even, so that there are no hot or cold parts of your house.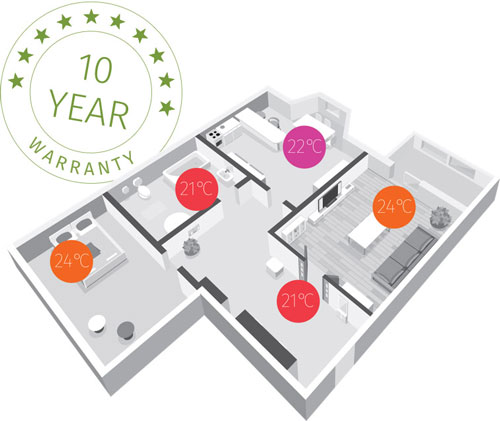 Efficiency
One thing that most people don't realise about ducted air conditioning is that it can be energy efficient and save you money. Yes, there is often a higher upfront cost for installing the system, but this can be offset over the life of the air conditioner with more efficient cooling and lower electrical bills.
Another way that ducted air conditioners can help you to save money is with zoning. This allows you to shut off the zones that aren't being used. This is great for saving money while also reducing the footprint on the environment.
Quiet
Ducted split systems are incredibly quiet allowing you to run them over night on those hot humid nights with no disturbance. They seamlessly operate in both heating and cooling mode causing no interruption to your day to day life.
Still not sure which option best suits you?
Coopers Electrical and Air Conditioning are your local experts when it comes to servicing and installing heating and cooling in Warrnambool and along the South Coast. If you're still undecided on what heating and cooling option best suits you and your lifestyle call Tom today on 0403 281 860 for a free in house quote!